2014.02.20 -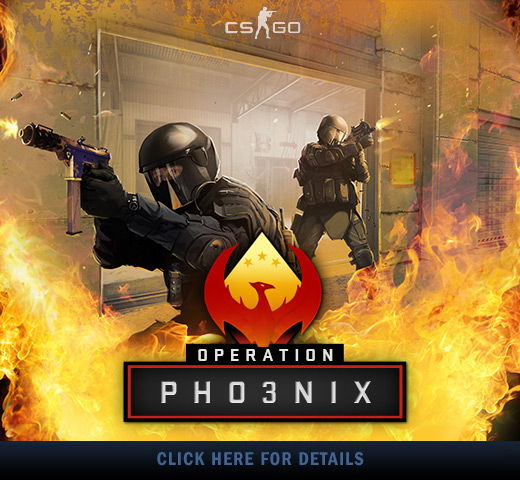 Az Operation Phoenix felemelkedett. Az elmúlt hetek során a CS:GO közösség szavazott kedvenc pályáiról az elmúlt két Operationből. Az Operation Phoenix a nyolc legtöbb szavazatot kapott pályát mutatja be egy sor plusz funkció mellett.
Az Operation Phoenix Belépő megvásárlásával korlátlan hozzáférést kapsz ezekhez a közösség által megszavazott pályákhoz hivatalos Versengő, Könnyed és Deathmatch játékmódokban. A Phoenix belépő ad még egy fejleszthető Érdemérmet is, mely egyben az Operation pontkártyájaként is szolgál, így nyomon követhetsz minden ölést és győzelmet, amit a Phoenix ideje alatt hivatalos Versengő meccseken érsz el.
A pályákon és Érdemérmen felül az Operation Phoenix érembirtokosai exkluzív hozzáférést kapnak a vadonatúj Operation Phoenix Ládához, mely 13 közösség készítette fegyverfestést tartalmaz. Ez a láda kiegészítő tárgydobásként érhető el az esemény során.
Kattints a fenti képre, hogy többet tudj meg az Operation Phoenix-ről, vagy szerezz be egy belépőt és kezdj azonnal játszani!