2019.01.24 -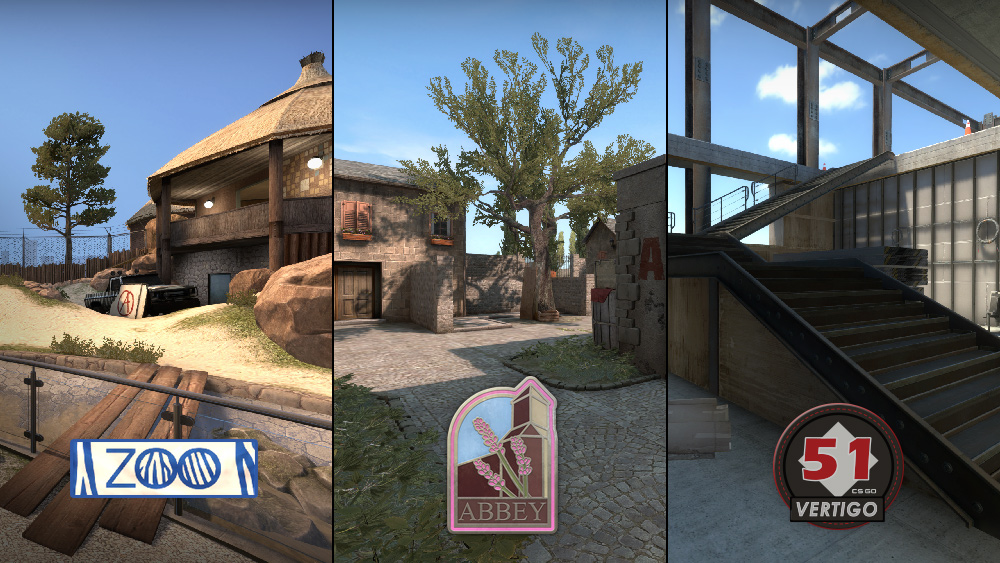 I dagens opdatering siger vi farvel til to baner, som fællesskabet har skabt: Subzero og Austria. Vi tilføjer i stedet to nye baner. Abbey er en bombedemonteringsbane, som er beliggende i en landsby ved Middelhavet, og Zoo er en af fællesskabets favoritter, der vender tilbage til CS:GO efter tre års pause!
Disse nye baner er kun tilgængelige i demonteringsgruppen Sigma for Casual og Deathmatch, men de bliver tilføjet til competitive-matchmaking i de kommende uger. Som med tidligere fællesskabsbaner skal du huske at bruge din spilletid til at stemme på dine favoritter.
Højtliggende Wingman
Oppe på den 51. etage finder du den nyeste Wingman-placering – en revideret version af Vertigo's B-lokaliteten. Terrorister kan finde vej til stedet på tre måder: ved at gå op ad en fritstående trappe fra T-startstedet, ved at bevæge sig igennem et nyt boost-vindue eller gennem CT-startstedet. Counter-terrorister skal udnytte alle hjælpeværktøjer, samarbejde og have nerver af stål for at holde lokaliteten sikker.
En lokal nyhedshelikopter står parat til at fange det hele, så se at komme ud og spille!