2014.02.20 -

Van egy matricaötleted, ami tökéletes lenne a CS:GO-hoz? Szerencséd van! Ma indítottuk el a Matricaműhelyt.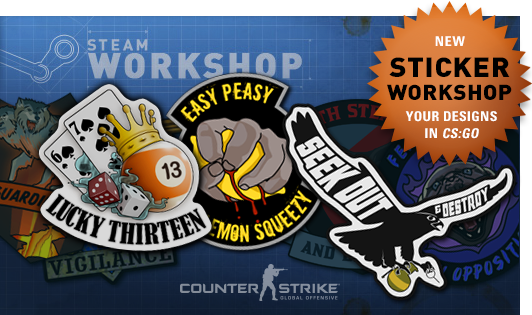 Ha készen állsz egy új matrica készítésére, látogass el a készítési útmutatónkba, hogy megtudd, hogyan változtathatod saját tervedet beküldéssé. Vagy, ha nem tervezel matricát készíteni, menj át a műhelybe, jelöld be a "matrica" lehetőséget, és adj visszajelzést a készítőknek különleges terveikről!
A matricák lehetőséget adnak a CS:GO rajongóinak érdeklődési körük kifejezésére. Így bár mi a legmagasabbra értékelt matricákat figyeljük a műhelyben, a sikeres matricák bármit képviselhetnek az eredeti absztrakt tervektől csapatod vagy eseményed logójáig.
A matricaműhely megjelent, hát légy kreatív és küldd be terveidet!