2014.07.01 -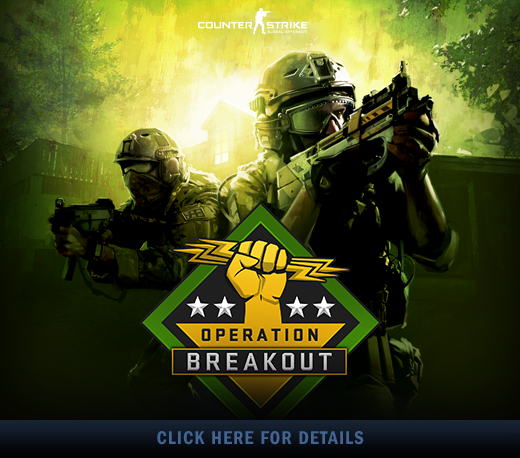 Operation Breakout has arrived, bringing ALL CS:GO PLAYERS unlimited access to a collection of six top-rated community maps!
Access Granted
Get the most out of Operation Breakout by purchasing an All Access Pass! With an activated pass, you'll get an upgradable Challenge Coin along with a huge list of features.
First, the Breakout Pass gives you access to mission drops, which you can receive wherever you play CS:GO. Completing missions will help you upgrade your Challenge Coin, and will also reward you with one of 45 exclusive weapon finishes from three new weapon collections: the Baggage Collection, Cobblestone Collection, and Overpass collection.
The All Access Pass also gives you exclusive access to the Operation Breakout weapon case. Featuring great community designs, the Operation Breakout introduces the brand new Butterfly Knife.
You'll also be able to keep track of your accomplishments with the Operation Breakout Journal. The Journal will separately track key stats for your official competitive matches on all Operation Breakout maps, as well as for all Active Duty maps. Want to see how you stack up to your friends? The Operation Journal also includes a Friends Leaderboard, where you can compare your progress throughout the operation.
Today's update includes all of this and more, so pick up your Operation Breakout All Access Pass and go go go!