2015.10.26 -

DreamHack Open Cluj-Napoca begins in just a few days!
Being the best of the best in CSGO takes tremendous dedication and skill. This video is part of a continuing collection of interviews that will take you around the world and inside the lives of the CS:GO elite, offering an in depth look at the stories behind the players that are shaping the scene today. Watch on Youtube and Steam.
Linking with Twitch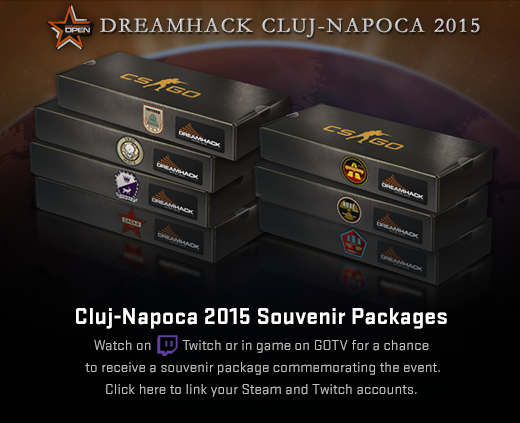 While you watch DreamHack Open Cluj-Napoca, you'll have a chance to receive a souvenir package commemorating the event. Each souvenir features a weapon from the collection of the map being played, golden stickers of the teams who were playing, and a golden signature of the MVP from the round where the souvenir dropped.
To be eligible for a souvenir package, all you have to do is watch the event! If you're watching in GOTV or in the main menu, you'll automatically be eligible for souvenirs. If you're watching on your favorite Twitch stream, make sure you link your Steam and Twitch accounts.
Don't forget to support your favorite players and teams by purchasing their Cluj-Napoca team stickers or autograph capsule. For each sticker sale, 50% of the proceeds go directly to the players and organizations. The stickers are also game pieces for the Cluj-Napoca Pick'Em Challenge and Fantasy Game, so don't forget to make your picks and update your roster each day as the tournament progresses for your chance at this event's trophies!