2017.07.13 -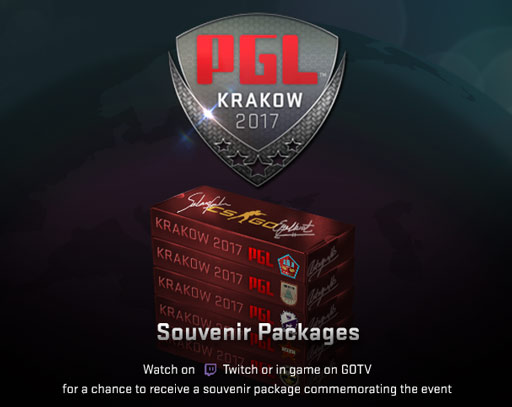 The PGL Krakow 2017 Major gets under way this Sunday at 5am EST (11:00 AM CEST).
While you're watching PGL Krakow 2017, you'll have a chance to receive a souvenir package commemorating the event. Each souvenir features a weapon from the collection of the map being played, golden stickers of the teams who were playing, and a golden signature of the MVP from the round where the souvenir dropped.
To be eligible for a souvenir package, all you have to do is watch the event. If you're watching in GOTV or in the main menu, you'll automatically be eligible for souvenirs. If you're watching on an official Twitch stream, make sure you link your Steam account!
And don't forget, you can support your favorite players and teams by purchasing PGL Krakow 2017 items. 50% of items proceeds go directly to the players and organizations. You can also use the team stickers to make your picks for the Pick'Em Challenge. Remember to make your group stage picks before the Group Stage begins on Sunday.