2019.01.24 -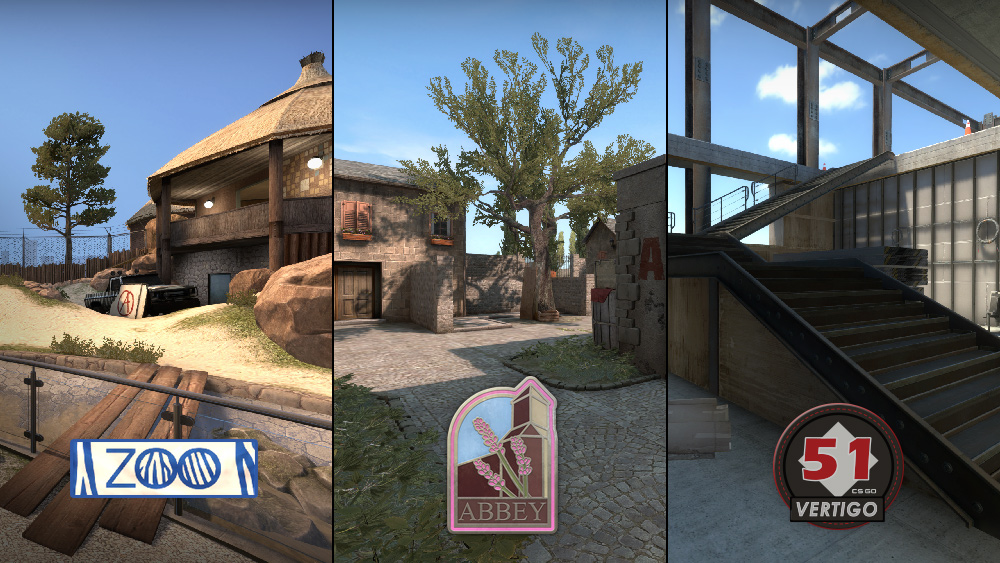 I dagens oppdatering sier vi farvel til to samfunnsskapte kart – Subzero og Austria. De byttes ut med to nye kart: Abbey, et desarmeringskart med beliggenhet i en middelhavslandsby, og Zoo, som vender tilbake til CS:GO etter en tre års lang pause!
Disse nye kartene er kun tilgjengelige i desarmeringsgruppen Sigma i modusene avslappet og dødskamp, men de blir lagt til i konkurransespilling i løpet av de kommende ukene. Som med de tidligere samfunnskartene, sørg for å stemme på favoritten med spilletid.
Høytsvevende følgesvenn
Du finner den nyeste beliggenheten for følgesvenn 51 etasjer opp – en revidert utgave av Vertigos bombeområde B. Terrorister kan komme seg til området på tre måter: ved å gå opp en utsatt trappeoppgang fra T-start, gå gjennom et nytt, høyt vindu, eller gjennom AT-startstedet. Antiterroristene må bruke utstyr, samarbeid og nerver av stål for å holde områdene sikre.
Et lokalt nyhetshelikopter er klar til å fange det hele, så kom deg ut og spill!