2015.10.20 -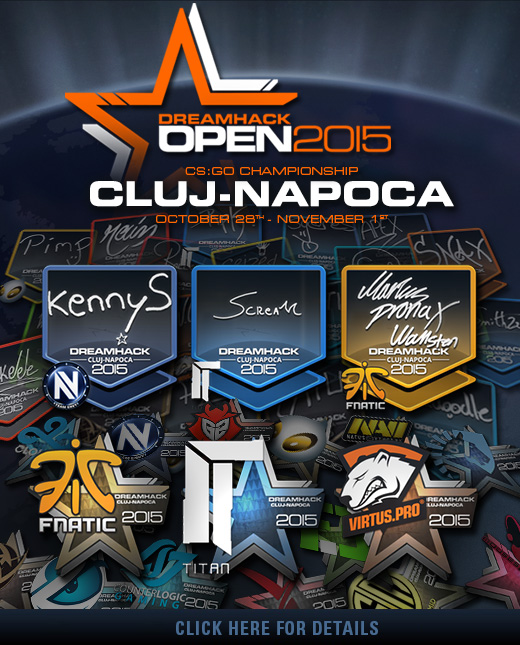 Ready to support your favorite teams and players at DreamHack Cluj-Napoca 2015?
Takım çıkartmaları profesyonel CS:GO oyuncuları tarafından imzalanmış çıkartmalar artık oyun içinden, Steam Topluluk Pazarından satın alımların %50'si oyuncuları ve organizatörleri destekleyecek şekilde satın alınabilir.
You can place them on your weapons to show support for your favorite player or team, or use them as game pieces in one of the two Cluj-Napoca 2015 tournament games.
Rüya CS:GO kadronuzla takımınızla küresel CS:GO topluluğuna karşı MÜCADELE edin ve bir Fantezi Kupası kazanın ve yeni Fantezi Takım Oyunuyla en iy puanlardan birisini elde edin.
Turnuva boyunca her bir maç için kazanan takımları doğru tahmin ederek bir Seçim Kupası KAZANIN! Daha fazla doğru seçim daha iyi kupa demek!
Meydan Okuyucular
Cluj-Napoca 2015 Meydan Okuyucularını tanıma fırsatın oldu mu? DreamHack.TV ve David Guvå tarafından hazırlanan kısa belgeselleri izleyerek bu sekiz takımın Cluj-Napoca yolculuğunu öğrenin.