2015.05.26 -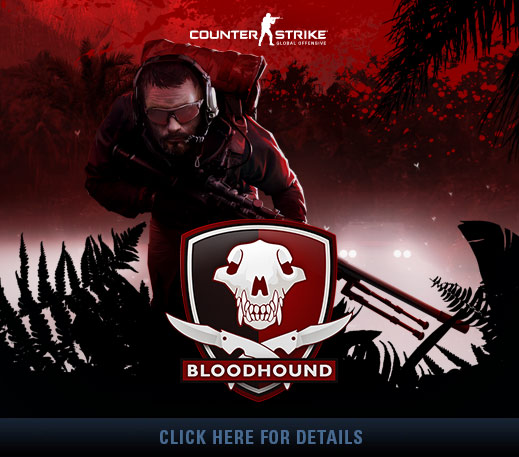 It's that magic time where spring prepares to give way to summer; a time for fun in the sun, vacations, friends, and of course… a brand new operation for CSGO!
New modes, campaigns, and bragging rights await you… welcome to Operation Bloodhound.
SOMETHING FOR NOTHING
The Global Offensive is ever changing, and with new conflicts comes new places to do battle… which you'll get to experience FOR FREE.
Log – Cut down more than trees, as a long-ranged battle breaks out at a logging facility.
Rails – A decrepit rail yard becomes an industrial killing field in this night-time engagement.
Resort – Once a temple to excess and wealth, the luxurious Elysee Resort has been transformed into a high-stakes firefight.
Zoo – Terrorists have arrived at the Bay Area Zoo, and they didn't come for the dolphin show.
Fan favorites Season and Agency are also making their triumphant return with Operation Bloodhound.
RANK HAS PRIVILEGE…
In addition to maps, all players will now have the ability to improve their Profile Rank by earning XP. As you increase your Profile Rank, not only will your CSGO profile evolve to show off your new title and icon; but the first time you rank up each week will earn you a weapon drop.
…BUT MEMBERSHIP HAS ADVANTAGE
Like the operations before it, The Operation Bloodhound Access Pass come with a challenge coin and journal to track your progress… however the addition of Profile Ranks calls for something extra special. By purchasing the Access Pass, your earned weapon drops are pulled from exclusive Bloodhound weapon collections (Cobblestone, Cache, Overpass, Gods and Monsters, The Rising Sun, and Chop Shop).
KILLER PERSONALITY
Also included in the Access Pass are two brand new campaigns: Marksman and Revolution… each campaign brings with it a unique story, exclusive co-op challenges, and plenty of opportunities to earn xp.
THIS IS A KNIFE
Each Falchion Weapons Case contains a chance at one of 16 community-created weapon finishes, as well as a chance to gain a new (and deadly) addition to the knife family: The Falchion. This wicked blade can only be found in this operation exclusive case.